[NotPuyaSubs!] Sword Art Online - Alicization - 10 [1080p] [Sin Censura] [09CC747F].mkv
| | |
| --- | --- |
| Category: | Anime - Non-English-translated |
| Uploaded by: | れんちょん |
| Website Link: | N/A |
| Hash: | e08ed1059fad4a5579adba518b6df303378b23cf |
| Size: | 733.6 MiB |
| Torrent language: | Spanish |
| Video Quality: | 1080p |
| | |
| --- | --- |
| Date: | 12/9/2018, 5:57:36 PM UTC+0 |
| Seeders: | 3 |
| Leechers: | 1 |
| Completed: | 164 |
| Last scraped: | 6/16/2019, 1:08:02 AM UTC+0 |
Description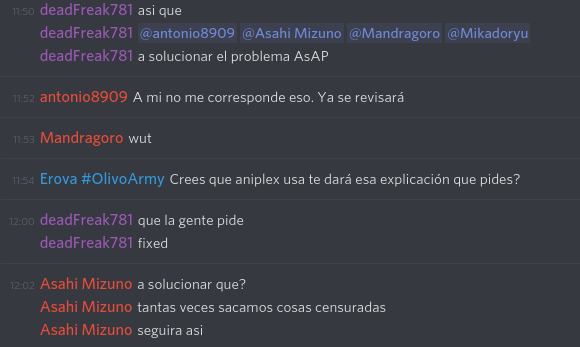 Y así es como NotPuyaSubs! resucitó temporalmente y sacó este lanzamiento. Así que, aquí lo tienen, disfruten del capítulo 10 de SAO Alicization completamente sin la censura que puso Aniplex of America y que jodió a toda América y Francia (curiosamente, Italia y Alemania tienen la versión sin censura).
Happy leech!
Video: 1920x1080 (Ohys-Raws)
Audio: AAC 2.0 ch
Subtítulos: Español Latino (Crunchyroll)
Comments
No user comments have been posted.